How to care for denim
No matter the occasion or the season, whether you pair it with a t-shirt and trainers, or a shirt and heels, denim is a wardrobe staple. It's also one of the most durable and versatile fabrics, and super low maintenance - as easy to care for as it is to restyle and rewear. But if you want to preserve its colour and softness, you've got to treat it right. Read on to learn how to properly wash and care for denim, so you can wear, Kair, repeat every single day.
Pre-treat stains and soak
Pre-treat stains by working a little detergent into the fabric, paying particular attention to susceptible areas such as the hem. If you're dealing with raw denim, pre-soak in a bath of tepid water (< 30ºC) with distilled white vinegar, and wash separately from your other clothes. It's super important to pre-soak raw denim to limit dye transfer and bleeding. You can also use distilled white vinegar to target odours before washing: apply the vinegar directly to odour areas, then pre-soak in water mixed with ¼ cup of vinegar. 
Wash cool, inside out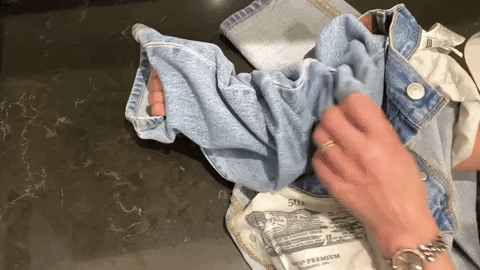 Wash denim inside out to prevent abrasion and extend the life of colourant dyes. We also recommend using a mesh laundry bag, to protect zips and buttons, as well as any special detailing, embellishment or distressing. Wash cool (20-30°C max) with minimal, gentle detergent, to prevent abrasion and maintain denim's colour, shape and longevity, and protect your denim against both shrinkage and fading. Avoid powdered detergent in particular: it can sometimes create unwanted white markings on heavy fabrics. Remember to also check all pockets before loading your machine: soggy half-dissolved tissues are never welcome, and metal items like keys and coins can damage the machine itself.
Line (never tumble) dry 
Tumble drying can wreak havoc on your denim at any stage in its life: the high temperatures alter the composition of the cotton in the denim. This accelerates wear and eventual breakdown, both changing the way the denim feels and causing creasing and wrinkles, as well as leading to unwanted colour loss. Line drying is best for denim: it preserves shape, fit and colour. After washing, turn your denim the right way round and re-shape while still damp, making sure the pockets aren't bunched up inside.
Fold away or hang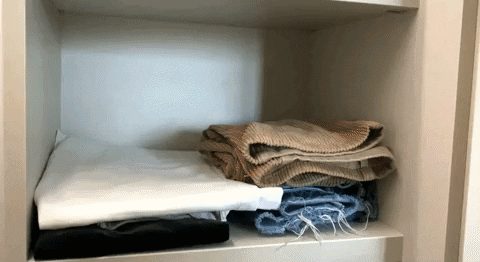 Denim is one of the easiest fabrics to store: choose whichever solution suits your wardrobe space and personal preferences. You can easily fold jeans over a hanger, but it's equally fine to fold them, as they're thick enough to hold their shape. The same goes for denim skirts. Hang them at the waist with clipped hangers, or fold in half.
Don't wash too often 
When it comes to washing your denim pieces, less really is more: limiting the number of unnecessary washes you put your denim through will help prolong its life. How often you wash it depends on how many times you wear it and what your activity level is like. A good rule of thumb is after every 5-10 wears, which translates as once or twice a month. We also recommend spot-cleaning and freshening up with regular spritzes of our Finishing Spray, to keep your denim going between spins and avoid a full wash.
Don't freeze your denim
It's a myth that freezing well-worn denim kills odour-causing bacteria: many bacteria actually survive sub-zero temperatures (as professor Stephen Craig Cary, an expert on frozen microbes, explains to Smithsonian Magazine). Other than pre-treating with distilled white vinegar and regularly spritzing with finishing spray, the best way to reduce odours on denim - without causing fading or affecting the integrity of the fabric - is to hang your denim outside or by a window, and to only wash with a gentle detergent like Kair.
Now you know how to care for denim properly, here's how to maximise its lifespan…
Top tips for maximising the lifespan of denim 
TIP #1: Don't wash too often: less is always more with denim. Washing after 5-10 wears, or once or twice a month, should be more than enough times, unless you're super active. 
TIP #2: Spot-clean and freshen up your denim with regular spritzes of our Signature Finishing Spray, to keep your pieces going between spins and avoid a full wash.
TIP #3: Always put on and adjust your jeans by the waistband rather than pulling the belt hooks - it's the stronger part of the garment, and so much less likely to tear when tugged. 
TIP #4: Always put on and adjust your jeans by the waistband rather than pulling the belt hooks - it's the stronger part of the garment, and so much less likely to tear when tugged. 
TIP #5: Contrary to popular belief, you can safely use fabric softener on denim. Just be sure to avoid anything containing chemical dyes and optical brighteners (which can be hard on raw denim and cause stretching) and instead opt for something which will gently soften and protect the natural fibres, like our plant-based Signature Fabric Conditioner.
With this ultimate denim care guide, you can bring joy even to the most distressed denim.