How to care for your party wear - in partnership with KITRI
As party season dawns, it's the perfect time to get out your statement dresses and treat yourself to a bit of luxury (we're particularly loving KITRI'S Persephone Retro Star Print Dress right now). But your evening wear needs a little more than paracetamol to get over its festive hangover: don't let it wither away within the wicker after its first wear, or linger in your wardrobe in fear of an inevitable wine spill. Read on to discover how to properly care for and maximise the lifespan of your favourite party wear, so that you can rewear it season after season and celebrate in style. 
Spot treat 
Avoid washing too often - in fact, we recommend infrequently, unless your garment is heavily soiled. If there are any small stains, spot-treat that one area to avoid a full spin. Simply dilute some of our Wool, Silk and Delicates Wash in cool water and gently work it into the affected area using a clean cloth, then dab away the residue with another clean, wet cloth. Continue to dampen the cloth with cool water as necessary until the stain disappears. We also recommend treating the stain from the back, to push it out rather than in: treating a stain from the front can set it even deeper into the fabric.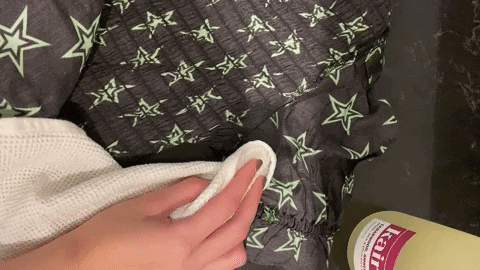 Dry cleaning 
Only around 10% of dry clean only clothing truly falls into the dry clean only category, even those with a dry clean only label (see our article on whether or not to dry clean). The 10% that do need dry cleaning include materials which you may find in your party wear, such as suede, leather, velvet and taffeta, as well as tailored formal suits or jackets and metallics like lamé. For the rest of your wardrobe, you can wash in confidence and wear carefree. From silks to satins, it's not only possible to wash dry clean only clothing at home, but actually much better than going to the dry cleaner, which involves exposure to a chemical substance called PERC, a neurotoxin associated with profound social and environmental hazards. All you need to wash your party wear at home is a little elbow grease and laundry know-how. So save yourself a hefty dry cleaning bill, and save your wardrobe from a short life. 
Machine washing 
Always check the instructions on the care label, to check whether or not your garment is machine-washable, which wash cycle and temperature to use, and how to properly dry it. Fabrics which are usually safe to wash at home include both natural fibres like cotton, linen, wool and cashmere, as well as synthetics like viscose, nylon, acrylic and polyester, or even lyocell and Tencel as in KITRI's vibrant Molly Green Check Midi Dress. But we recommend performing a simple spot test on an inconspicuous area of fabric as a precautionary measure. If this leaves even the slightest of marks, we would strongly advise against washing your garment at home. While zips should be zipped up to prevent the teeth from snagging the seam and avoid breaking the zip itself, buttons shouldn't be buttoned as this can put a strain on them as well as on the fabric. Turn your patterned garments inside out to reduce fading and preserve the brightness of the print. With delicate party wear in particular, we recommend choosing the delicates or hand wash cycle (low temperature, short cycle, gentle spin), and using a mesh laundry bag for extra protection inside the drum (or simply an empty pillowcase, if you don't have a mesh bag). 
Hand washing
If your party wear is embellished, embroidered, beaded or sequinned, wash by hand in tepid water (30ºC - check out our step-by-step guide if you're unsure of the method). As above, opt for our Wool, Silk and Delicates Wash, and be sure to let your garment soak in the water for 30 minutes before rinsing and gently squeezing out excess water. 
Drying
Take your party wear out of the drum immediately after washing to reduce creasing. Gently soak up excess moisture with a towel, then hang dry indoors, away from direct sunlight (which can damage the delicate fibres and fade the colour). Avoid tumble drying at all costs - especially when it comes to silks and metallic fabrics such as lamé - and opt for hangers over pegs (which can leave marks). Once dry, steam lightly with a cool iron on the reverse, before spritzing with our Signature Finishing Spray to release wrinkles.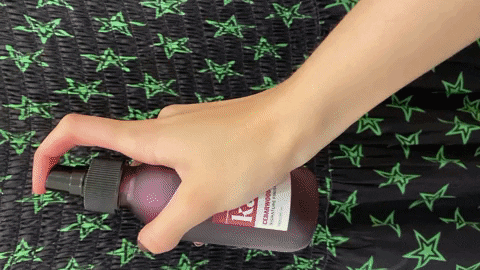 Storage
If you want your party wear to outlast the season, proper storage is essential. For example, metallics can fray other textiles, so be careful not pack them with anything else: we recommend using a clothes cover, like this one from John Lewis, to keep them separate. With silks and satins, we recommend using a padded hanger, (try this one from Liberty), to avoid misshaping and prevent stretching. When hanging in general, always use wide, rounded hangers, which will support the weight of your dresses, and make sure each garment hangs straight and without touching the floor. If there are adornments like beading, or other fancy detailing (such as the waterfall frill on KITRI's gorgeous Jemma White Cotton Shirt), cover or wrap them with acid-free tissue paper, and leave enough room to let your garments breathe. If you're putting them away until next season, pop them in an airtight container or vacuum storage bag: with beaded evening dresses in particular, lay the hem first, then fold the dress, and put acid-free tissue paper between each fold. 
So say goodbye to one-night party wear stands once and for all, and shimmer through the festive season with style and kair-free confidence. Now that's a cause for celebration!